PINSA FLOUR MIXES AND BASES
Create, respect and personalize
"We are what we eat" and at Naturally Pinsa, we are what we produce. Our products are true to our values and they fully reflect them. Pure and simple uncompromising recipes, designed to satisfy the most demanding caterers, chefs and customers around the world by maintaining the original Italian tradition.
Our work with CREA
In our job, there is no room for improvisation. For this reason, we have decided to work together with CREA (Consiglio per la Ricerca in Agricoltura e l'Analisi dell'Economia Agraria = Council for Agricultural Research and Agricultural Economy Analysis), the most important Italian agro-food research organization, to study our flour mixes.

We work closely with CREA's technical experts day in, day out in order to optimize our blends of flours:
- Flour making and blending
- Technology
- Ease of processing
- Nutritional properties

The objective? Create together the perfect blend to satisfy every need.

Italian, controlled and customized. Our flour mixes are the key of our recipes. Selected cereals, traceability and real support guarantee the greatest combination to reach anyone working in the food industry.
MIXES OF FLOURS
Wheat, rice, soy, chickpeas, beetroot, turmeric, peas and spelled. With our great range of flours we can create the perfect mix to exceed your expectations and meet any needs. Customized recipes that become "that something special" to got to lean into the market and create a unique menu.
A FULL TEAM BY YOUR SIDE
How to select the ideal flour mix? What is the price? What are the characteristics, advantages and uses of each individual mix? These are just sample question you can ask to our team of experts (agronomists, technologists, nutritionists and pizza chef) who will guide you towards the best possible choice for your business.
TRACED SUPPLY CHAIN
Each of our mix is delivered with an information card including details about the exact composition, origin of ingredients, processes carried out and any fertilizer used. We know the "journey" of every flour: from the seed to the mill, from our laboratories to our final destination. How do we do that? Thanks to the Blockchain technology in our production plant. That's why we deliver transparency.
BEST ITALIAN CEREALS
We are always looking for the best cereals and legumes to create our flours. We use Italian raw ingredients preferably from Sabina, grown by companies that respect our values. So, we rely on sustainable agriculture that does not use any GMOs, preservatives, pesticides or additives. We offer you professionalism and we guarantee the high quality of our products.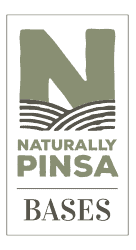 Simple, versatile and delicious, these precooked long-leavening bases reach destination ready to be stuffed and finish cooking. Premium ingredients and double cooking… just like the Roman's tradition.
THE PERFECT FLOUR MIX
The classic recipe of Pinsa Romana includes three different types of flour: wheat, rice and soy. We can, however, customize the mix for special requirements by replacing soy with other types of flour to be chosen from: chickpeas, beetroot, turmeric, peas and spelled, so each brand will have a very unique recipe.
PROFESSIONAL SUPPORT TEAM
By choosing Naturally Pinsa, you can select your ideal flour mix and being supported by a team of agronomists, technologists, nutritionists and pizza chefs. This is a privileged and very important support in order to satisfy the taste of a specific consumer target, while having full control over food costs of the Pinsa Romana bases.
TRADITIONAL DOUBLE COOKING
As the original recipe states, the dough is made by 75%-80% of water (cold) and requires two different cooking stages. The fist one is made by us to dry the water. The second one is carried in your kitchen, to fill the dough and complete the cooking. Our double cooking is indeed a way to keep the tradition alive and it is not a commercial choice.
LOW FATS, HIGH DIGESTIBILITY
Each of our Pinsa Romana is left to rise for a long time. As this process takes long time, it would not be possible for you to do it in your premises, as we know that the clock is ticking. The long leaving and abundant water make the base fragrant, light and particularly digestible.
THE AUTHENTIC TASTE IS READY TO REACH YOU
Our bases are precooked and cut down immediately while they are still warm, so that they maintain all their organoleptic properties, thanks to the refrigeration circuit, until they reach the final destination. Here the chef can regenerate the bases, stuff them and briefly cook them to serve a product that preserve the traditional taste of excellence.
LOCAL INGREDIENTS TO STRIVE PERFECTION
Only brewer's yeast and sourdough, sabina DOP extra virgin olive oil, spring water and a unique blend of flours from a traced bio and eco-sustainable supply chain make the dough delicious, because of the excellence of the original ingredients. Made of Italy only source local raw ingredients to respect our values.
Create your own ideal flour mix
Create your own mix according to different parameters as taste, health, costs and ease of processing
---